BBL: Leaderboard! Crailsheim Merlins continue to write the fairy tale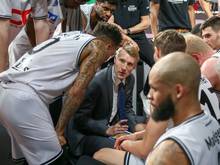 The Crailsheim Merlins surprise team is unstoppable and has taken the championship lead in the national basketball league.
The team of Coach Tuomas Iisalo won 95:87 (59:51) at MBC Weissenfels and celebrated his fifth victory in the fifth game. Power Forward Quincy Ford (20 points) and shooting guard Jeremy Morgan (19) became the match winners in the Merlins.
Crailsheim is back on top on Sunday by champions Bayern Munich, who are visiting s.oliver Würzburg (15:00 CET)
Brose Bamberg won the third game in a row. The former series champion prevailed in newly promoted Hamburg Towers with 89:59 (48:28) and improved to fourth place. Outstanding actor was Bamberg's center Assem Marei, who contributed a double-double with 21 points and 10 rebounds.
The point-less rear left remains the BG Göttingen. The Südniedersachsen defeated with 77:83 (36:41) against the MHP giant Ludwigsburg in the reunion with the longtime Göttingen coach John Patrick.
---
5. Matchday
Alba Berlin – Rasta Vechta 101: 78 (50:43). – Best throwers: Giffey (14), Eriksson (13), Nnoko (12), Hermannsson (10), Schneider (10) for Berlin – Simpsn (16), Herkenhoff (13), Vasturia (12) for Vechta. – Spectators: 7377
BG Göttingen – MHP Giant Ludwigsburg 77:83 (36:41). – Best throwers: Hundt (25), Allen (10), Lockhart (10) for Göttingen – Knight (19), Carrington (17), Wimbush (14), Weiler Babb (10) for Ludwigsburg. – Spectators: 2813
Syntainics MBC Weissenfels – Hakro Merlins Crailsheim 87:95 (51:59). – Best pitchers: Micovic (25), Zylka (17), Gbinije (13) for Weissenfels – Ford (20), Morgan (19), Herrera (12), Jones (12), Span (10) for Crailsheim. – Spectators: 2300
Hamburg Towers – Brose Bamberg 59:89 (28:48). – Best throwers: Schaffartzik (15) for Hamburg – Marei (21), Carrera (13), Sengfelder (10) for Bamberg. – Spectators: 3400