Bottas secures both titles for Mercedes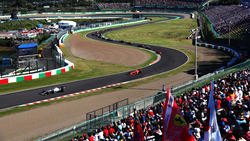 Valtteri Bottas has won the Japanese Grand Prix and with his Mercedes team premiered the Team World Championship for the sixth time in a row. The Finn won at the fifth-to-last Formula 1 season finale in Suzuka ahead of Ferrari driver Sebastian Vettel and his Silver Arrow team-mate Lewis Hamilton.
It's already clear that the driver-world champion will be in a Mercedes for the sixth consecutive year sitting.
For Bottas it's the sixth Grand Prix success and the third of the season. However, Hamilton continues to lead in the World Cup ahead of his team-mate (338: 274 points) and can perfect his sixth title at the next round in Mexico on October 27.
Vettel's team-mate Charles Leclerc collided with the Red at the start Bull from Max Verstappen and did not get past sixth. Renault driver Nico Hulkenberg was ninth.
More on the race coming soon on sport.de !