WM | High jump: Qatar cheers: Barshim brings first gold for the host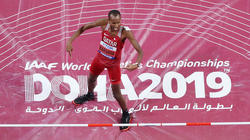 Local hero Mutaz Essa Barshim has successfully defended his title in the high jump at the World Athletics Championships in Doha to the cheers of the fans and the host country Qatar to bring the first gold at this World Cup.
After a hitherto weak season, the 28-year-old was in top shape at the right time and secured 2.37 m of gold. Driven by the crowd, Barshim rose to world record holder Javier Sotomayor (1993 and 1997 / Cuba) as the second high jumper in history to win two world titles.
Silver and bronze went to neutral athletes Mikhail Akimenko and Ilya Ivanov, both of whom scored 2.35m in personal best. Akimenko, however, made fewer attempts. Maxim Nedasekau (2.33 / Belarus), who had come to Qatar as the best bird in the world, landed in the ungrateful fourth place.
European Champion Mateusz Przybylko was eliminated in qualifying. The injury-plagued Rio Olympic champion Derek Drouin (Canada) ended his season early.